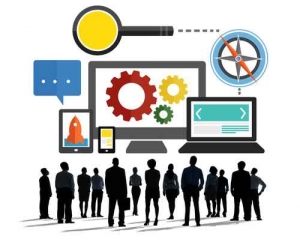 Today's evolving digital landscape is the equivalent of watching the '50's become '90's overnight. I reference the 90's because of the new age opportunity of the time, the potential of the moment and unknowns of the future. Similarly, our digital world has continued to grow exponentially as mobile usage now out-ranks desktop, targeting capabilities continue to rapidly expand and the use of analytics and data opens new insights into collected audience information to deploy marketing strategies. The keys to the effectiveness of those strategies are found within the goals you have set. Those goals define your success and having clear benchmarks along the way lead to your understanding of effective online visibility.
Analytics play a major role in today's marketing and advertising. There's more data to make us smarter than ever before, but it's easy to get lost. So, in order to stay focused on the right data, and find useful analytics to guide the implementation of your marketing, you first need to outline a few simple goals. Just like writing a paper in college, we need the initial outline to build the storyline:
Define what you're looking to accomplish – creating a new brand and need visibility; growing market share/revenue across profit centers; building your brand around a new product or service; becoming a trusted source on a specific topic, etc.
Define your audience – Who is your target market (demographic, interest and intent), what questions do they ask when they engage with you, what do they need to know, where might they currently go for this information?
Evaluate where you currently stand – does your online content answer your target market's frequently asked questions; if people search for what you're trying to accomplish are you there, if not you who is; if your target market engages in social media are you consistently flushing the market with new, relevant information?
Assess each marketing channel as a buyer and a business owner – is it important to be there to reach your goals?
Conduct keyword research for clear picture on how mass audiences search for your product/service/brand, etc.
How visible are you, where do you appear?
What are you saying to your audience when you are visible?
Assessing the competition – understanding why your competition appears ahead of you could take some time when done right.
Where are your competitors choosing to attract audiences (Engines, websites, mobile), why?
Do you currently compete in these marketing channels, why/why not?
Would you choose your business? If not, why not?
These steps are designed to guide marketers through what can be a difficult assessment based on our own buying patterns as consumers. Once the goals are determined, we start to take a more objective look at where we are and where we're headed. Defining the success of any marketing strategy is critical to really understanding current online visibility and the potential that still exists out in that great, digital land of opportunity!
Ready to get started? For a limited time, we're offering a free Digital Competitive Intelligence Report. Allow our expert staff of digital marketing consultants and analysts to provide an insightful view of your online visibility and how you stack up against your competition.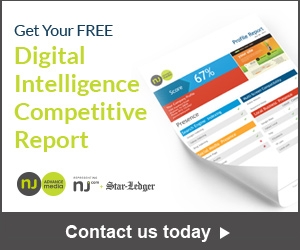 We'll show you:
How search engines see your business.
If your website is properly indexed in Google, Yahoo and Bing.
Your social media stats on the top performing social sites.
An overview of your top 3 competitors' presence on local websites (competitors defined by you).
In addition, as one of few national Google Premier SMB Partners, NJ Advance Media keeps up with the ever-changing algorithms of the search engines. This report will also tell you if your site is keeping up with the pace of change and evaluate everything from your meta descriptions, page content, multi-screen compatibility, responsiveness to different devices, backlinks, content descriptions and site speed.