The COVID-19 health crisis has wreaked havoc on the employment situation for millions of workers. In fact, New Jersey unemployment claims surged 1,500% in just one week. While many people are currently looking for work, there are companies actively hiring to fill both temporary and permanent positions as they continue to serve the community as "essential" businesses.
The pandemic created an opportunity for one New Jersey based convenience chain to not only help unemployed individuals get back into the workforce, but to also address their ongoing efforts to recruit qualified, friendly and outgoing individuals for one of its 160 locations.
We know that the current situation will pass and will return to normal and we'll need team members in our stores.
"Unlike many other businesses and organizations, QuickChek is actively interviewing and hiring for long-term jobs and we encourage people to check out our job openings…" shared Kim Scully, PHR, SHRM CP, leader of operational recruiting and staffing at QuickChek. "We know that the current situation will pass and will return to normal and we'll need team members in our stores."
QuickChek partnered with NJ Advance Media on a robust recruitment campaign targeting job seekers in both New Jersey and New York. In response to their needs, our team built a customized comprehensive, multi-channel program that included participation in the NJ.com Online Job Fair, which was promoted online and in print with stories and ads reaching job-seekers, a job posting with Total Talent Reach™ and performance boost, digital display impressions and sponsor content on NJ.com. To better serve our readers, QuickChek was also featured as the cover story in a recent edition of The Star-Ledger's Career section.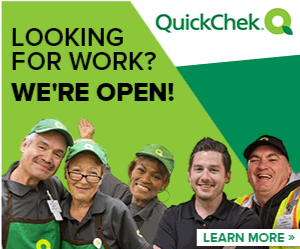 In order to reach the right audience, our team leveraged data and sophisticated technology to target specific candidate profiles and geographies. Digital display impressions were set up to serve to job seekers within a radius around multiple store locations. Our audience targets included job seekers from those industries hardest hit by the COVID crisis, including Food and Beverage, Retail, Hospitality, Tourism, & general Consumer Services.
The campaign is on-going, and we look forward to hearing encouraging stories of successful placements from QuickChek's recruitment team.
At NJ Advance Media, supporting everyone we can during this time is mission critical for us.
If you are interested in applying for any of QuickChek's available positions, you can apply here.
Also, make sure to visit the next NJ.com Online Job Fair, May 10 – June 8th and share with family and friends. For easy access, bookmark NJ.com/jobfair.
We hope these efforts offer a small sense of hope for better days to come. If your company is interested and able to help put New Jersey back to work, please contact Nanci Malave at nmalave@njadvancemedia.com. We are ready to help fill your open positions.