No matter your age, there's a good chance you have a mobile phone.  In fact, 93% of US adults under age 50 have a mobile phone and nearly three-quarters of adults over age 50 do1.  In New Jersey, more than 8 in 10 adults now have a smartphone and use it to access websites and apps daily2.
New Jersey has experienced a massive 98% growth in smartphone ownership from 2013 to 2018. During the same timeframe, tablets have also grown tremendously with a 139% increase. Laptop or notebook computers have seen a 20% increase, and desktop ownership has decreased by 21%, but still half of Garden State adults own one2.
BEYOND THE CALL
So, it's one thing to own a smartphone, but what are Garden State adults doing with their smartphones?  A LOT!
Smartphones are ubiquitous today, practically an appendage for many due to the myriad of apps and gadgets that make life tasks easy and bring the world to your fingertips.  72% of New Jersey adults used their smartphone to access the internet or apps in 2018, a 50% growth since 20142.
TOP TEN WAYS ADULTS USED APPS/INTERNET ON A SMARTPHONE (Past 30 Days)
Percent of NJ Adults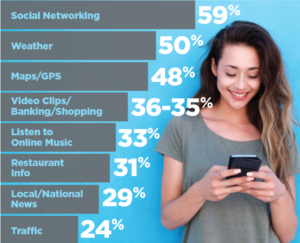 In addition to an increase in the number of adults using smartphones, there is an increase in how much they are using their smartphones to do a variety of things. Think about how much more you do with your phone now than you did four years ago.  Online shopping has increased 148% among New Jersey adults since 20142.
Increase in Usage for NJ Adults: 2018 vs. 2014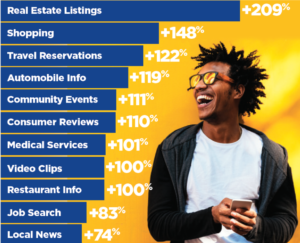 MARKETING YOUR MESSAGE, MOBILY
So, what does all this point to? The importance of maximizing your mobile presence to better reach your desired targets as well as educate them about your goods and services at the time they are on their path to purchase.
Look at your website as a consumer would. Would you buy from your own store? "Your website is the only thing in the digital space you will have 100% control over. If you don't invest in your own digital storefront, consumers won't either", said Chris Allen, Director, Digital Strategy at NJ Advance Media.  48% of users say that if they arrive on a business site that isn't working well on mobile, they take it as an indication of the business simply not caring. Conversely, 62% of companies that designed their websites for mobile platforms increased their sales3.
Optimizing your website for mobile is critical in this continually evolving technical world. 
Marketers must stay mindful of how their established platforms and tools can best connect to consumers that are virtually unplugged, yet continually plugged into their mobile devices.
"A responsive website is essential", Allen said. "Whether your potential consumer has an old iPhone, a new one, or an iPod or iPad, you want your website to display on their device in a manner that best reflects who you are and what your business is all about".  Fact: 40% of people will choose a different search result if the first is not mobile friendly, proving a poor user experience will cost you customers3. "User experience is everything", says Allen, "even though you may be the best person or company for those services or products, you have one opportunity to make the right first impression".  As people continuously shift how they consume media it affects how they use different devices.  Yes, the fully responsive mobile website experience is important but so is the way we can reach people in the mobile environment:
Mobile web optimization, mobile display, social media, location-based marketing, and apps are all viable solutions that can improve your mobile marketing efforts.
Mobile display ads are an effective way to reach your best prospects. Digital display ads can be static, animated, Rich Media or video, offering a variety of creative ways to engage your audience.  Whether people are on the move with their smartphones, or more relaxed and stationary while using a tablet, mobile ads get good visibility, especially when strategically served to the right consumer at the right time.
Speaking of strategically served, location-based mobile marketing and apps get to your best targets where they are and capitalizes on using geo-targeting around a specific location or event to deliver your message and capture a consumer's attention during or after they've been at that location. This direct marketing strategy can also pinpoint people who are likely users of your products or your competitor's products or services during an event such as a concert or sporting event, exposing them to your ad in real-time. 71% of retail marketers have some sort of location strategy to drive foot traffic and trigger location-based mobile advertising, according to a study by WBR Insights and Future Stores4. The study found those who use location-based strategies like retargeting and geofencing report a greater lift in store visits and overall conversions.
In-app advertising is another avenue for marketers to explore. It's the fastest growing form of mobile advertising today because apps are where smartphone users devote most of their time.  In-app advertising can be an effective part of your overall digital marketing plan, even if your business doesn't have its own app.
Lastly, we all know that people are deeply engaged in their social media platforms and swear by their most favored, trusted apps.  Making your brand part of the social conversation is essential to developing a trust and a following of loyal consumers.  Engage in real conversations on your social platforms and take advantage of the ad targeting capabilities available on social channels.
 As you assess your overall marketing strategy, consider how mobile should be best utilized to reach your targets and your goals.  NJ Advance Media can help you analyze your media mix and offer recommendations to get your plan on track. We can also help custom build a mobile responsive website based on your needs, so your business can maximize its presence and effectiveness with mobile consumers. Contact us today to learn more.
Written by Nancy Starzynksi, Research Analyst – NJ Advance Media
Sources:
Statista Survey (Global Consumer Survey) November 22 to December 27, 2017, and April 11 to May 28, 2018.
2018 Release 1 Nielsen, Scarborough Report. New York & Philadelphia Mix Study.
www.iacquire.com/blog/mobile-behavior-big-game-seating-a-study-with-surveymonkey.
Blis, researcher WBR Insights and Future Stores as reported by Mobile Marketer 6/5/18.