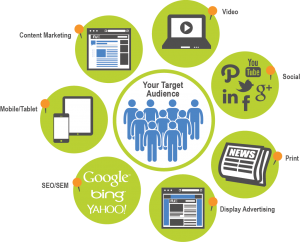 So, how's it going so far? – a bit more than 1/3 of 2015 has come and gone. If you were doing your job, you got serious about your 2015 advertising plan about 6 months ago. Your businesses faced the critical task of setting advertising budgets and planning for the coming year. Figuring out how much you would spend was only the first hurdle. You decided the smartest way to allocate those precious advertising dollars.
There was a lot to consider. And now you may be realizing that big mistakes can result from seemingly small missteps. Check out this simple 15-point checklist. Did you think through all of the important factors?
The Media Mix
Where should your advertising message appear? Obviously this depends on your particular business and your goals – there's no single foolproof formula. Use the following guidelines to identify the appropriate media for your advertising message
1) Customer Preferences – What types of media do your customers typically consume? Where are you most likely to catch (and hold) their attention?
2) Branding – Media channels, like other businesses, have their own brand personalities and attract unique audiences. What media aligns with your brand?
3) Geography – Do you need to reach a local, regional, national or international audience? Which media will provide the best coverage in this area?
4) Reach – How many people do you need to reach? Confirm that the media you've chosen will have the necessary impact – and verify that reach and distribution numbers have been independently audited for accuracy.
5) Cost – Are the tactics you're considering the most cost-effective way to reach your goals?
6) Competition – Where are your top competitors advertising? Chances are they're in that space because it's worked for them. Never copy your competitors' tactics blindly, but keep an eye on what they're doing and why.
7) Past Campaigns – Look back over the previous year. (Hopefully, you've been tracking the effectiveness of your campaigns – more on that in a minute.) What worked and what didn't? Try to replicate your successes, while allocating ad dollars away from duds.
Timing
The "when" of advertising is as important as the "where." Knowing the ideal time to advertise, as well as how frequently, will maximize your impact and help avoid budget shortfalls when you need those dollars most.
8) Seasons + Holidays – If demand for your product or service spikes around certain times of the year (most do), adjust your ad spend to take advantage of those opportunities.
9) Events – Similarly, big local and national events provide fertile ground for sponsorships, sales and promotions. Piggyback on the popularity of these events to add momentum to your advertising.
10) Customer Use – Study consumer buying habits and product lifecycles to determine when customers are most likely to buy. Map these out and promote accordingly.
11) Frequency – Consistent, year-round advertising is recommended for almost any business. Consumers need to see an advertisement many times before it makes an impact. Continual advertising keeps you top-of-mind, plus has the added benefit of saving you money. (The more you purchase, the more leverage you have in negotiating discounts for media buys.)
As you schedule campaigns, be sure you're not leaving large gaps that will cancel out any progress you've made to date.
12) The Timeline – Create a master timeline outlining your advertising efforts for the year. At a minimum, include campaigns, media used, cost, start dates and end dates. Timelines are an invaluable tool for managing campaigns, adjusting budgets on the fly, and evaluating results.
Tracking
It's hard to know where you're going without a clear perspective on where you've been. Establish a system for tracking the effectiveness of your advertising early on to gain insights that will guide your budget and planning in the future.
13) Set Goals – Clarify what you want to achieve with your advertising – both yearly goals and particular goals for each campaign. What does success look like?
14) Choose KPIs – KPIs, or Key Performance Indicators, measure the success of your advertising in concrete terms. Will you measure it in leads, click-throughs, purchase amount, tickets sold or something else?
15) Schedule Reviews – A lot can happen in a year. At some point, you'll need to step back, reassess and adjust. Build in monthly or quarterly reviews to ensure your advertising is performing as expected and your budget is being spent wisely.
It's a lot to take in, but it's critical. It's not too late to put this list to the test and to fine-tune your plan of attack. We can help.