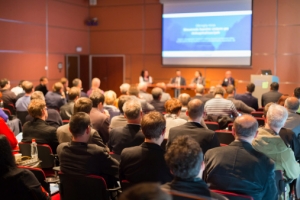 New Jersey's largest technology expo is set to take place on Friday, Sept. 9 and Saturday, Sept. 10 at the Garden State Expo Center in Somerset.
In its first year, IT Connect Expo is a two-day event featuring more than 60-plus exhibitors, interactive technology exhibits, a "Start Up for Success" competition, and a variety of seminars and panel discussions designed to highlight industry trends and educate tomorrow's technology leaders.
One such panel, hosted by NJ Advance Media, will focus on how technology and marketing are intertwined. How Tech, Data and Software Drive Marketing Strategy, will be held at 3 p.m. Friday. It will explore how businesses can achieve growth when technology, software and data are applied to areas such as CRM (customer relationship management) segmentation, search marketing, video, social marketing and data management platforms.
"It can be overwhelming to keep up with all of the new technologies that are constantly emerging in the marketing space. For our clients, we take on that responsibility and help businesses find the right audience and ultimately new customers," says Steve Alessi, vice president, Advertising, Operations and Business Development for NJ Advance Media. "We are excited about the opportunity to participate in IT Connect and share insights with the community. We hope that attendees will walk away with useful knowledge that they can apply to their businesses".
Alessi will moderate a panel of five veteran marketers who hail from NJ Advance Media and affiliated partners, Advance Local and Advance Digital Inc.
Meet the Panel
IT Connect Expo "will have something for everyone – from business leaders to techies, entrepreneurs, investors, and casual tech users to students," says Nimish Kadakia, chairman of the event. "We carefully selected topics, speakers, exhibits and partners to ensure a great experience for our attendees and all involved. The end result is an excellent event, which is ready to launch, after almost two years of dedicated work. I could not have done it without the great team we have."
IT Connect Expo is free for attendees and is supported by Partners including NJ Advance Media, NJ Tech Council, Big Data Alliance, NJ Community College Consortium for Workforce & Economic Development, NJ Small Business Development Center, SAP, Nimble to the Health Care and Technology Talent Networks. The full list, event details and registration are available on the organization's website, it-connect-expo.com.